A drought-resistant landscape redesign helps Los Angeles area homeowners conserve water and love their backyards again without fear of yearly summer water shortages. Some even qualify for rebates!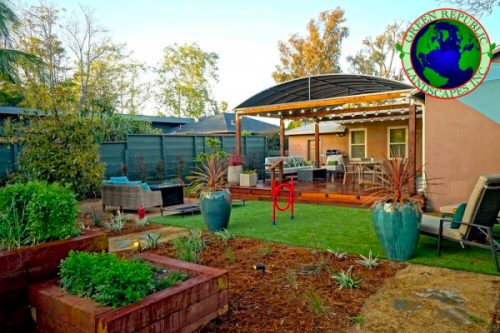 Sherman Oaks, United States - April 16, 2018 /PressCable/ —
As the rainy season in Los Angeles comes to an end and we prepare for another dry and blisteringly hot summer; one of the original pioneers of "go-green" landscapes: Green Republic Landscapes, Inc. reveals some of their secrets to putting together a beautiful drought-resistant landscape that also saves you money.
The first step to creating your new yard is to remove all unnecessary grass & debris and level the area.
Next, you'll want to plant drought-tolerant California-native plants. There are a ton of options you can choose from but a variety of succulents are often preferred by most people.
Third, you would install a cost-efficient drip irrigation system. Instead of a wasteful, old-fashioned sprinkler that sprays water everywhere, a drip system is the most precise way of watering in 2018.
Finally, you can create beautiful pathways and enhance the look of your yard with rocks, decomposed granite, flagstone, pavers, and mulch.
The recent trend of installing drought-resistant landscaping has been growing in popularity every year due to the overwhelming need to conserve water in California.
In fact, the drought was so severe in 2015 that Governor Brown started offering a massive rebate program to entice homeowners to replace their lawns with drought-resistant landscaping and do their share to save water.
Customers who install drought-resistant landscapes can achieve immediate water saving benefits now as well as many years into the future. On average they will use 90% less water irrigating the plants around their home plus it helps make life easier by helping them spend less time doing yard maintenance.
Now in 2018, turf removal incentives are no longer being offered in all regions because funding has nearly exhausted. But these rebates are still available in some areas. Visit http://greenrepubliclandscapes.com to see if rebates are still in effect where you live before that funding completely dries up too!
Homeowners serious about lowering water usage expenses but want professional help making it happen can achieve complete landscape efficiency and create a true backyard oasis of beauty by getting one of Green Republic Landscapes custom landscape designs. These include a smart irrigation system which can be controlled from your smartphone, eye-appealing new hardscapes, and the perfect combination of drought-resistant plants to make the beauty of your yard really shine through!
Motti Buskila, Owner & Operator of Green Republic Landscaping Inc. had this to say about it:
"A study by the city of Santa Monica and Santa Monica colleges says that switching out an outdated 2,000-square-foot yard green and lush yard with drought-tolerant landscapes can save a homeowner up to $2,200 in a given year – And that's why this is so important!
What we do at Green republic Landscapes is map out every aspect of our customer's landscape, always keeping three main criteria in mind:
1. Aesthetics
"Beauty is in the eye of the beholder" Each design and project is a living entity. At Green republic Landscapes we bring outdoors spaces to their utmost potential based on our client's needs and budget. We strive to introduce innovative ideas and technologies while providing sustainable and aesthetically appealing outdoor spaces.
2. Function
From the inception of each design idea to the finish of a project construction our goal is to create the perfect space for you! At Green Republic Landscapes each design element, plant, and landscape material is selected carefully and with a purpose. Let us find out what your needs are, and we will do the rest.
3. Environment & Sustainability
Green republic Landscapes is an environmentally friendly firm. Our design & build firm always takes into consideration environmental concerns. Some of our design methods are influenced by LID. LID is an approach to land development (or re-development) that works with nature to manage stormwater as close to its source as possible. LID can be applied to new development, redevelopment, or as retrofits to existing development.
Low maintenance+low water consumption = lower bills."
Los Angeles area homeowners interested in learning more about upgrading their landscape and conserving water can do so directly on their website at http://greenrepubliclandscapes.com or by calling them directly at (818) 616-1860.
Contact Info:
Name: Motti Buskila
Email: info@greenrepubliclandscapes.com
Organization: Green Republic Landscaping Inc.
Address: 13220 Riverside Dr. Unit 103, Sherman Oaks, California 91423, United States
Phone: +1-818-616-1860
For more information, please visit http://greenrepubliclandscapes.com
Source: PressCable
Release ID: 331704