Dallas-based PSL offers the latest and best information about the services it provides for clients. PSL is a leader in software engineering best-practices for Latin America.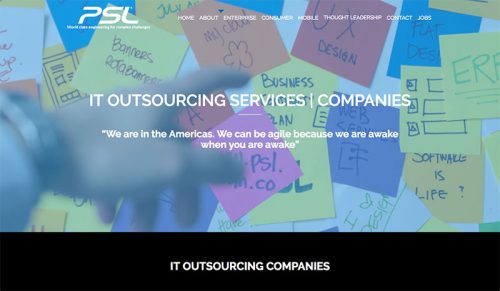 Dallas TX - April 16, 2018 —
PSL and Alejandro Vasquez are pleased to announce that their updated website provides information about the IT outsourcing services which they offer. PSL is a leader in software engineering best practices for Latin America and specializes with United States firms of all sizes in order to provide solutions for software engineering needs. The firm combines the agility of SCRUM with the process discipline of CMMi5 and the information security of ISO27001, to deliver world-class engineering services.
A spokesperson for the firm explained, "We understand engineering holistically by fostering a passionate, highly communicative culture and accompanying our life-cycle with quantitative metrics and processes that give the client real-time access to our work, and full transparency to the quality and productivity we deliver. We deliver our services with the smartest bilingual talent Latin America has to offer and provide compelling UX and UI design to makes sure your product will be loved by your customer. We commit to delivery of each project within the needed time constraints."
When PSL takes on a software outsourcing project, the client receives top-tier solutions for business needs that require software intervention The client guides Product Ownership, while the firm provides the engineering to develop the software. Once the project is complete, the specialists at PSL can help to maintain the app.
More than five hundred specialists at PSL provide a highly tailored engineering service to each and every client. Every client is provided with full CEO access to all the partners, irrespective of the reason. The team focuses on serving outsourcing clients in the United States and Canada from the offices in Medellin and Bogota (Colombia), as well as Mexico D.F. (Mexico).
The skills of the PSL team allows for augmentation of the client's bandwidth with teams in the same time zone. The pros tackle new developments or maintain existing applications. This allows for leveraging stable and long-term teams of flexible size.
Contact Info:
Name: Alejandro Vasquez
Organization: PSL
Address: 010 LBJ FWY FL 12 Dallas TX 75234
Phone: (866) 867-9116