The professionals at My Bowen Therapy Pain Relief Clinic offer up-to-date descriptions and explanations about the gentle yet effective technique for pain relief.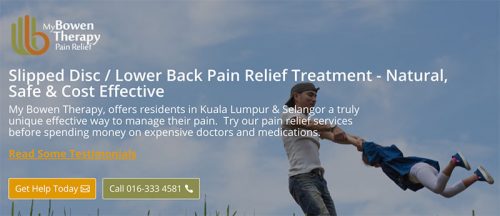 Kuala Lumpur Malaysia - April 16, 2018 —
My Bowen Therapy Pain Relief Clinic and Lorna Mair are pleased to announce that they have updated their website to post information about effective lower back pain treatment. Back pain can be caused by many things, including falls, accidents, and injuries. Some of the most common injuries involve falling on the buttocks. The practitioner will begin each consultation with a review of the causes. In addition to injuries, the patient may be suffering from dehydration and underlying emotional issues, which can increase the chronic pain levels.
Information from the patient will permit the therapist to better choose from the many Bowen Procedures to use and which specific areas of the body to target. Bowen Therapy originated in Australia in the late 1980s. The originator was Tom Bowen. The method is considered the most exciting modality in the world. The therapy appears to produce more immediate relief than many of the more traditional therapies, such as chiropractics or physiotherapy. The Bowen method effectively reduces pressure and tension around the injured or painful area, as it relaxes the soft tissue which surrounds it.
Pain in the lower back may arise from disc problems, a herniated disc, bulging disc or slipped disc. Other painful conditions include sacroiliac joint dysfunction, muscle spasms, injuries, congenital conditions such as scoliosis, and kyphosis, kidney stones, arthritis, menstruation, infections and other complications. The majority of people, who are treated in the pain relief clinic have developed their condition through occupational hazards, or injury, with prolonged sitting becoming a major contributing factor.
A representative of the clinic explained, "With over 100 social media reviews and a 4.9 out of 5 Star Rating we are KL's most highly reviewed specialists. My Bowen Therapy has helped hundreds of Malaysians overcome their pain, fast with natural and drug-free solutions. Treating every person as an individual, we gently target very precise locations on your body, zoning in on specific tendons, ligaments and nerves."
Contact Info:
Name: Lorna Mair
Organization: My Bowen Therapy Pain Relief Clinic
Address: Glomac Damansara, Jalan Damansara, Unit A-02-05, 60000 Kuala Lumpur, Federal Territory of Kuala Lumpur, Malaysia
Phone: +603 7731 0964 Mobile +60 16-333 4581
For more information, please visit https://mybowentherapy.com/slipped-disc-lower-back-pain-relief-remedies-treatment/
Release ID: 331459