Fibroid expert Dr. Suzanne Slonim, of Precision VIR in Dallas, TX, achieves 97% clinical success rate in nonsurgical treatments of female uterine fibroid cases. She works to raise awareness of fibroid symptoms, risk factors, and the UFE treatment for women as an alternative to hysterectomy.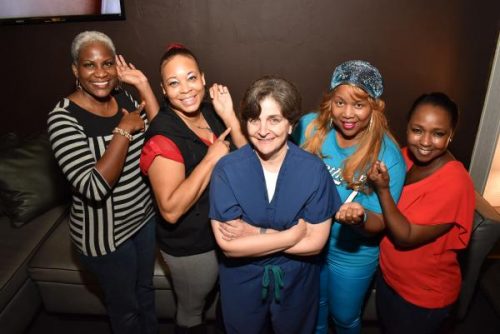 Dallas, United States - June 14, 2018 /PressCable/ —
Slonim Raises Awareness of Fibroid Symptoms, Risk Factors, and Treatment Options for Women
Dallas, TX (June 14, 2018) – Dr. Suzanne Slonim, a uterine fibroid expert in Dallas, Texas, with her team at Precision Vascular & Interventional (Precision VIR), has reached a staggering 97 percent clinical success rate in treating female uterine fibroid cases. The procedure, known as uterine fibroid embolization (UFE), causes fibroid tumors to shrink and is a less-invasive option than a hysterectomy or myomectomy.
"It's critical for women to be informed that they have choices," said Dr. Slonim. "Helping women is why I became a doctor. It's what I love to do. It's my honor to help women avoid a hysterectomy and improve their lives." Dr. Slonim added, "And when they express their gratitude, it means the world to me."
A board-certified vascular and interventional radiologist of 23 years, Dr. Slonim is recognized as a leading expert in UFE while helping many women with uterine fibroids avoid hysterectomy surgery. She is the driving force behind the #FibroidFree movement in the Dallas-Fort Worth area and is on a mission to educate, inform, and treat women who are interested in UFE and want to take charge of their health.
Dr. Slonim's clinical success rate is evident in the many five-star reviews and supportive comments from patients she has received over the years. For example, one patient of hers had been bleeding every single day for eight months. Since Dr. Slonim performed the UFE procedure, she only bleeds during her periods, and her flow is very light. Another woman was having terrible back pain every day. Since UFE, she has zero back pain. A third patient was staying home from work each month during her period because of debilitating cramps. Since the UFE, she hasn't missed a day of work. The success stories from Dr. Slonim's patients go on and on, and several are featured on the practice YouTube Channel and on Facebook.
"I've always been interested in women's health," Dr. Slonim explains. "I want to help women avoid surgery if they can. I want them to know all their treatment options for fibroids. I know UFE is effective, and I enjoy doing it. When I left my old practice, I had the opportunity to focus my attention where I wanted to. I jumped at the chance to build a practice dedicated to UFE."
About Women's Fibroids and UFE
By age 60, one in every three women has had a hysterectomy; the most common reason is fibroids. Uterine fibroids are noncancerous tumors located in and around the uterus. Though usually benign, fibroids can cause life-altering symptoms such as heavy menstrual bleeding, anemia, blood clots, irregular blood levels, frequent urination, and severe pelvic pain.
Fibroids don't always cause problems, and they are often discovered during tests for other conditions. Uterine fibroids most often affect women between the ages of 30 and 50. Also noteworthy is that African-American women are three times more likely to develop uterine fibroids, followed by Hispanics, Whites and Asians.
Most women suffer in silence because they hear the word "fibroids" and think surgery. This is no longer the case with UFE, which is less invasive, safer, and has a faster recovery time than surgical procedures. For those who are eligible, UFE can be performed through the wrist artery.
Advantages of UFE include:
• Recovery time of 5-7 days
• No hospital stay; no surgery
• Procedure time at or under 1 hour
Despite being pioneered in the mid-1990s and covered by most insurance companies, uterine fibroid embolization (UFE) treatment is surprisingly unknown. After UFE, in addition to living pain-free, several patients have become pregnant and are new mothers. In turn, Dr. Slonim is known for keeping in contact with patients who now enjoy life fibroid free.
"I learn from every patient I meet and from every procedure I perform," Dr. Slonim said. "The more patients' stories I hear, the more unusual symptoms I can store away in my memory as possibly related to fibroids. The more women I examine, the more likely I am to notice something out of the ordinary. The more times I treat extremely large fibroids, the surer I can be that the UFE will be successful. Experience increases skill level in almost every field."
Dr. Slonim added, "The fact that my current team at the Precision VIR office has completed hundreds of cases together helps us work better together. We know our strengths. We can anticipate each other's needs. We work together incredibly smoothly. All of that means we can take care of each patient better."
About Fibroid Free & Precision VIR
Fibroid Free is a division of Precision Vascular and Interventional Radiology. Precision VIR is the first independent vascular and interventional radiology practice in North Texas. Established in 2012, Precision VIR evaluates, diagnoses and treats vascular conditions such as varicose veins, chronic venous insufficiency, peripheral arterial disease, pelvic congestion syndrome, and varicocele. The specialists at Precision VIR also focus on treating fibroids without surgery using Uterine Fibroid Embolization (UFE).
Dr. Slonim was a welcome addition to the Precision VIR team in 2016. She is thrilled to be a part of a unique practice that enables patients to benefit from interventional radiology treatments in the comfort of a medical office rather than a hospital.
To schedule a free phone consultation with Dr. Suzanne Slonim, call 214-377-0220, visit FibroidFree.com or PrecisionVIR.com.
– end –
Contact Info:
Name: Shauna Robinson or Madison Horan
Email: info@precisionvir.com
Organization: Precision VIR
Address: 12400 Coit Road, Suite 505, Dallas, TX 75251, United States
Phone: +1-214-382-3200
For more information, please visit https://www.precisionvir.com
Source: PressCable
Release ID: 359911